Cellipont Bioservices Announces Cell Therapy Facility Expansion To Support Growth
Poway, CA,  May 11, 2022 — Cellipont Bioservices, a cell therapy contract development and manufacturing organization (CDMO), today announced plans to expand its development and manufacturing facility at its Poway, California location. The expansion will enable Cellipont to increase capacity for process development and Phase I/II programs.
Deborah Wild, Chief Executive Officer at Cellipont Bioservices, commented, "After months of planning we are excited to be moving forward with this facility expansion. We are fortunate to have supportive clients who have been requesting that we grow our capacity to satisfy their advancing programs.  This project marks an important first step in making that happen and we continue to work on additional capacity investments."
Cellipont Chief Operating Officer Mike O'Mara added, "This expansion will not only improve our capacity, but will also allow us to design with the latest technologies and best practices in mind. To help our clients reduce the cost of treatment, we strive to optimize the utilization of production suites and support services, and the new facility opens new doors for making that a reality."
The expansion at Cellipont's facility includes additional warehousing, process development, quality control, and analytical development spaces. The facility expansion is being supported by cGMPnow, an industry leader in the design/construction/qualification of GMP Advanced Therapy Medicinal Product (ATMP) Manufacturing facilities.  The general contractor for the project is Dome Construction, a leader in the construction of state-of-the-art biologics and advanced cell therapy manufacturing facilities.
The new space is expected to be operational by the end of 2022.  Cellipont plans a corresponding increase in hiring to staff the new facility.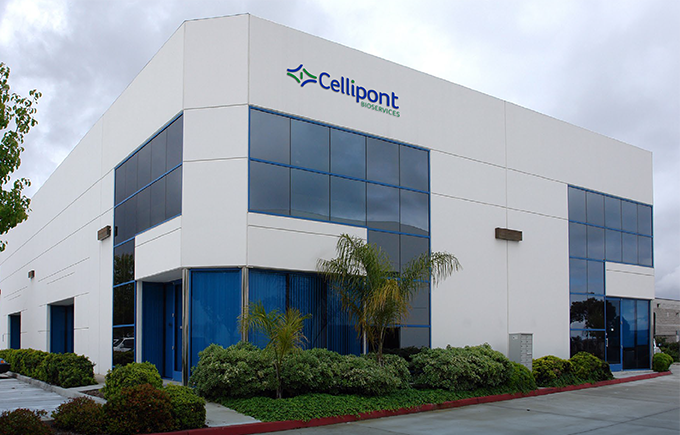 Cellipont Bioservices, a leading cell therapy contract development and manufacturing services company, announced expansion at its Poway, California facility.
About Cellipont Bioservices
Cellipont Bioservices is a privately-held cell therapy CDMO based near San Diego, California with more than 15 years of experience in the development and small-to-large batch manufacturing of cell therapies. Our team has deep technical expertise and has been recognized by customers and partners for its ability to productively grow challenging cells. Our culture is customer-centric with a focus on flexibility and responsiveness. For more information, please visit www.cellipont.com