Senior Vice President
Sales & Marketing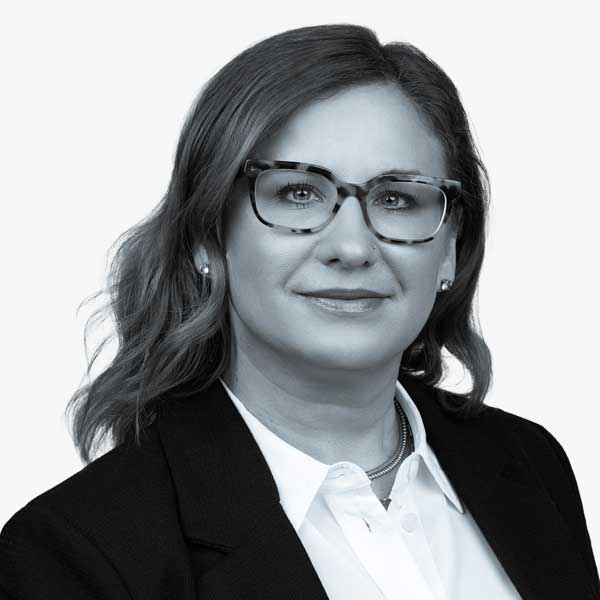 Senior Vice President
Quality & Regulatory
Director
Human Resources & Talent Acquisition
Director of Business Operations
Director of Assay and Process Development
Deborah Wild
Deborah Wild is President and Chief Executive Officer at Cellipont Bioservices.
Deb is an accomplished C-Suite BioPharma Executive with 30+ years' experience leading large groups including manufacturing, supply-chain, quality assurance, quality control, validation, regulatory affairs and client and business management. She has earned a strong reputation for leading high growth and effective turnarounds by transforming organizations and equipping them with strong business leaders and partners.
Deb's prior roles include Chief Quality and Regulatory Affairs Officer, Chief of Staff and Client Business Management at Paragon BioServices/Catalent Gene Therapy where she was part of executive leadership team that led to the successful sale of the business to Catalent. Prior to this, she was VP of Quality Systems at Polynoma and VP of Manufacturing and Supply Chain at Victory Pharma. She also spent 17 years at Genentech in various leadership roles in Manufacturing Operations, Supply Chain and Quality.
Deb and her family live in San Diego and she sits on non-profit boards with an emphasis on Veteran support. Deborah was deployed during Desert Storm and is a US Army Veteran and is a graduate of Austin Peay State University.
Denise Krohn
Denise Krohn is Senior Vice President of Quality and Regulatory at Cellipont Bioservices.
Denise is a seasoned quality professional with more than 25 years experience leading quality assurance, quality control and validation teams in the pharma industry. Her career has focused on growing and expanding the capabilities of quality organizations and building robust, scalable quality systems from early clinical stage through licensure and launch.
Denise's prior roles include Vice President of Quality at Paragon BioServices/Catalent Gene Therapy where she was accountable for ensuring a successful pre-approval inspection in becoming the first commercial CDMO for gene therapy. She previously held quality positions at Novavax and Shire with strategic and quality leadership responsibilities across multiple sites.
Denise earned her B.S. in Biology from Millersville University.
Mike O'Mara
Mike O'Mara is Chief Operating Officer at Cellipont Bioservices.
Mike is an accomplished Biopharmaceutical/CDMO Executive with 30 years' experience leading large groups including manufacturing, supply-chain, quality assurance, quality control, operational excellence, MSAT, Facilities and Engineering. He is well known for leading organizations through the transition and growth of early phase operations through commercialization. Mike has been through many regulatory agency audits from general to Pre-Approval Inspections.
Mike's prior roles include VP of BioIndustry of North America for Miltenyi Biotec's CDMO business unit that specialized in Lenti Viral Vector and Cell Therapy manufacturing. Prior to this, he was Sr VP of Manufacturing Operations for Cytovance. He also had several leadership positions at Lonza in Manufacturing, MSAT and Operations. Mike has spent a majority of his career working for and with CDMO's in the biopharmaceutical industry.
Mike holds a bachelor's of science in Microbiology from the University of Maryland
Will James
Will James is Chief Financial Officer at Cellipont Bioservices.
Will is an experienced financial executive with more than thirty years experience in public accounting, investment banking, corporate development, investor relations, strategic planning and treasury management.
Prior to joining Cellipont Bioservices, Will served as CFO of Cognate BioServices, Inc., a Memphis, TN based CDMO that was acquired by Charles River Labs in 2021. Will held prior roles with Veraction (now known as Traxx), MRC Global, Morgan Keegan, Mueller Industries and Ernst & Young.
Will graduated from the University of Mississippi with a Bachelor of Accountancy degree and is a certified public accountant (inactive).
Ginger Jones
Ginger Jones is the Director of Business Operations at Cellipont Bioservices, with responsibility for Business Development and Project Management functions.
Ginger brings nearly 20 years of experience in the pharmaceutical development industry. Prior to joining Cellipont, she held business development and project management positions at PCI Pharma Services, Marken and Ben Venue Labs. In addition to years of experience in business-to-business sales and project management, Ginger has also spent time working in partnering and licensing of clinical stage programs and owning her own business.
Ginger holds a B.S. in Biology from Trine University.
Suzanne Gonsalves
Suzanne Gonsalves is the Director of Human Resources and Talent Acquisition at Cellipont Bioservices.
She is responsible for building a scalable workforce strategy and delivery system that will elevate our high-performing and accountable culture. Suzanne brings more than thirty years of HR leadership experience with small and large organizations pre and post merger/acquisition predominantly in the financial services and technology industries.
Prior to joining Cellipont, Suzanne consulted for small to mid-sized growth companies including several start-ups. She previously held several corporate executive HR Leadership roles. Gonsalves is a Certified Senior HR Professional.
She received her Bachelors degree in Psychology with an emphasis in Business from UCLA.
Scott Broughton
Scott Broughton is Senior Vice President, Sales & Marketing for Cellipont Bioservices.
Scott is an experienced sales and marketing leader with more than 30 years of business leadership, strategy, business development and marketing experience, including 12 years leading business development activities for cell and gene therapy organizations.
Previously, he was Vice President, Sales & Marketing for Cognate BioServices, a leading CDMO specializing in cell and cell-mediated gene therapies where he led the sales, marketing and partnership strategy which led to acquisition by Charles River Laboratories in 2021. Scott has also headed North American Sales and Marketing for CellGenix GmbH, Cook's Regentec Division and spent 10 years at Baxter Biosciences and Fenwal Divisions.
Scott earned his B.S. in Economics at Indiana University Bloomington.
Scott Caton
Scott Caton is Director of Quality at Cellipont Bioservices.
Scott brings nearly 30 years of hands-on cGMP Quality experience serving the life sciences and pharmaceutical communities in the areas of Quality Assurance, Quality Control, Pharmaceutical Manufacturing Operations, Contract Manufacturing, Validation, Stability, Raw Materials, and consulting for Quality Systems. Prior to joining Cellipont, his previous roles includes Quality Assurance Manager at B.Braun, Director of Quality Control at American Peptide, Quality Control Scientist at MediGene Inc., and Quality Control Manager at Immune Response Corporation.
Scott received a B.S. from San Diego State University in Biology with a focus on Microbiology and a minor in Chemistry. He also holds a Pharmacy Exemption Certified License.
Tatiana Ruiz Larroya
Tatiana Ruiz Larroya is Director of Assay and Process Development at Cellipont Bioservices.
Tatiana has more than 20 years of experience in molecular and cellular biology, genetics and epigenetics. She also brings more than 10 years of experience in biotechnology, working in assay development, product development and biological products and assay manufacturing.
Prior to joining Cellipont Bioservices, Tatiana held various technical and leadership roles at Active Motif, most recently as Director of Bioproduction and Manufacturing.
Tatiana holds a B.S in Biology from Universitat Autònoma de Barcelona (Spain) and earned her PhD in Biomedicine from Universitat de Barcelona (Spain).
Luke Cox
Luke Cox is Director of IT at Cellipont Bioservices.
Luke brings more than a decade of experience in facilities systems engineering and automation engineering in cell and gene therapy and biologics manufacturing. Prior to joining Cellipont Bioservices, Luke was Facilities Systems Engineering Manager at ABL in Rockville, MD. He has also help automation engineering roles at Catalent, Paragon, Rexel USA and Emergent BioSolutions.
Luke received his B.S. in Mechanical Engineering from the University of Maryland.
Ghee Kim
Ghee Kim is Senior Director, Operations and Site Leader at Cellipont's Poway, California facility, with responsibility for manufacturing, facilities/engineering, supply chain and MS&T.
Ghee brings nearly 20 years of experience in cell therapy and biologics process development, process engineering, validation, manufacturing support, tech transfer, scale-up, and facilities. Prior to joining Cellipont, he led the technical adaptation for the newly formed contract manufacturing division at Dendreon. He also held CMC and engineering leadership roles at Neurana Pharmaceuticals and Emergent BioSolutions.
Ghee earned his B.S. in Chemical Engineering at the University of California San Diego and a LEAD Professional Certificate from the Stanford University Graduate School of Business.
Sean Searfoss
Sean Searfoss is Senior Director, Quality with responsibility for Quality Assurance, Quality Compliance/Systems, Quality Control and Validation.
Sean brings over 20 years of experience in quality and manufacturing functions in FDA-regulated industries, including medical devices, small molecule pharmaceuticals, and biologics, including gene therapies. He has extensive experience in Pre-Approval Inspections, quality remediation efforts and building robust, phase-appropriate quality systems.
Sean's most recent role was Senior Director of Quality Assurance at MacroGenics Inc. where he was head of Quality Systems and Operations for the site. A highlight of Sean's 7+ years of CDMO leadership experience was the implementation of Quality system elements to support initiatives for pre-approval inspection(s), resulting in approval for the first commercial gene therapy at Catalent. Sean held previous quality positions at MacroGenics Inc., Paragon BioServices/Catalent and Pharmaceutics International Inc.
Sean earned a B.S. in Biology from Lock Haven University (Pennsylvania) and his M.B.A from University of Delaware.
How can Cellipont help?
Please send us a note and we'll get right back to you!